The Palestinian Watan News Agency, which is one of the partner media organizations in "Shabab Live" project, that launched the monthly talk show "Shabab Cafe". "Shabab Live" aims to enhance the participation of Arab youth in society and encourages other media organizations to provide the project more coverage in their programmes. In order to actively participation in this programme, Watan News Agency has set up a youth steering committee consisting of 6 youth representatives who are responsible for selecting topics that addresses the problems and needs of Palestinian youth. The result of this committee's work was recording of three episodes that highlighted education, employment, and political participation issues.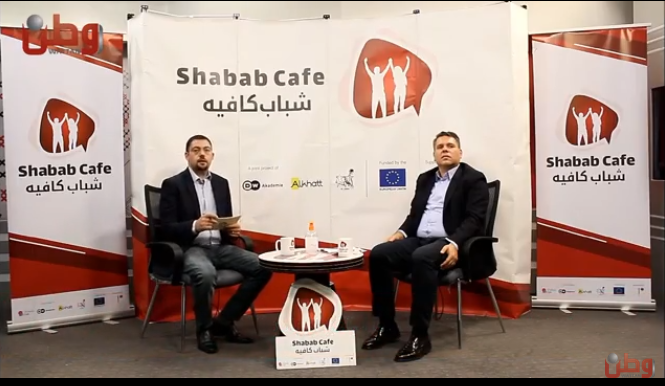 The first episode of "Shabab Cafe" programme focused on drug abuse and unemployment among young people. The guests for this episode included the Deputy Minister of the Ministry of Labour, representative from police, members of the local youth committee and, a social worker working with drug victims.
The second episode of "Shabab Cafe" programme focused on the problems and challenges with the relationship between Palestinian education system and the labour market. The participants for this episode were Ms. Wafa Arouri, a young journalist and the Assistant Secretary for Higher Education Affairs at the Ministry of Higher Education and Scientific Research Mr. Ihab Al-Kabbaj.
The third and final episode of "Shabab Cafe" programme raised issues of youth representation in government, the presence of women in political work and the role of media in spreading awareness. In addition to running an internet campaign "Free Youth Voices", Watan News Agency is currently conceptualizing new ideas of enabling youth to intervene and participate in the programmes through social media.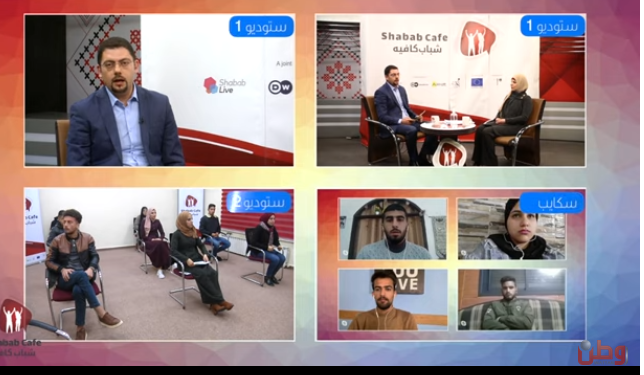 "Shabab Live" is a joint project of Deutsche Welle Akademie, Alkhatt, and Al Jana. It is funded by the European Union and supported by the German Ministry of Foreign Affairs. The project develops media literacy skills in youth aged between 15 and 30 years and enhances their presence in the media. It supports eighteen media institutions (TV / Radio) and non-governmental organizations in six Middle Eastern and North African regions: Palestine, Lebanon, Jordan, Tunisia, Algeria, and Morocco.